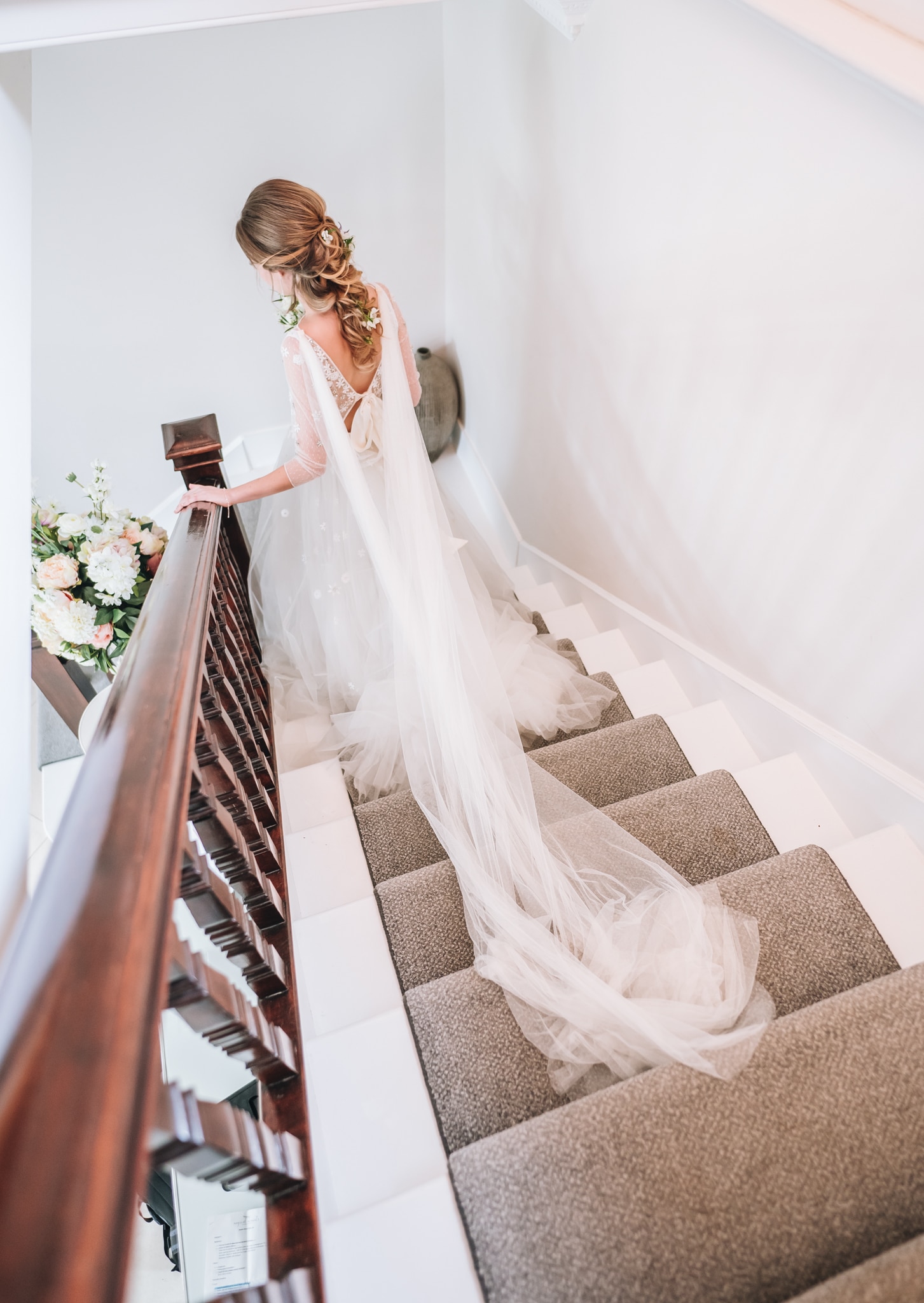 Testimonial
Beckie and Dan Braxted Park
Dear Dawn
Thank you for all your hard work and care in making us all feel beautiful for our wedding day.  You have truly made me feel so special, which is all I can ask for.  Thank you!
Michelle Williamson 7th October 2023
I'm back down to earth after a wonderful wedding day and wanted to say a huge thank you! You really went over and above with all the help you gave getting me into my dress etc. Everyone looked beautiful so thank you so much!
Philipa
Thank you so much for your amazing work doing my hair and make up for my wedding.  As you know, I wasn't very confident but you really gave me confidence on the day.  I felt really special, but lots of people saying I still looked like me which was nice.  Thank you again so much. Philippa xxx
Philippa Gibbs
Houchins
Gail Birkin East Mersea Hall 27th August 2022
How Dawn managed to turn my hair for my wedding into a thing of beauty is beyond me! Dawn was very creative and transformed my hair, my Mum, my Mother in Law and my Bridesmaids hair into amazing styles that lasted all day. Dawn was warm, friendlily, professional and a calming influence. Thank you so much Dawn. xxx
Gail Birkin
East Mersea Hall
Suzzanne – Rose and Crown Colchester
Professional, hassle free, expertise outstanding, as a more mature bride & with rosacea I needed an expert & boy did I get one! Felt confident & fantastic thank you Dawn your service from our first email to leaving the hotel was amazing. Ps Dawn did my hair make-up & my 2 step daughters hair & my 2 sisters make-up & everyone looked amazing
Suzanne Davis
Rose and Crown Colchester
Natasha Louise – Apton Hall October 2022
Dawn, I can't thank you enough!
You made me feel a million dollars!  I will be forever thankful to you for stepping up and saving my wedding day.  I had so many compliments on my stunning make up.  Although it was the morning of my wedding day I first met you, you put me at ease and made me feel so comfortable.  So thank you for being such a special part of my wedding morning and for making myself and my bridesmaids look and feel incredible. xxx
Natasha Louise
Apton Hall
AMY KERRIGHEN CAPTAINS WOOD BARN SEPTEMBER 2022
To Dawn
Thank you so much for everything and for giving me the hair of my dreams on my special day.  Love Amy xxx
Amy Kerrighen
Captains Wood Barn
Ellie Riddell – Woodhall Manor April 2022
Thank you so much for your exceptional services on my wedding day last month.  You managed to make my hair look more beautiful than I thought possible!  My bridal party were also so happy with what you did and we all had a lot of positive comments all day.  you are an artist with hair!  Thank you for making me feel so beautiful on my wedding day.
Love Ellie Kirkham (nee Riddell)
Ellie Riddell
Wodhall Manor
Joanna Wilson (was Marks) July 2022
Dawn was my hair & make up extraordinaire for our glorious boho 70's themed wedding at the stunning Captain Woods Barn.
I discovered Dawn's portfolio on Facebook whilst searching for a local MUA. I loved Dawns previous work and from the moment we first met during my hair & make up trial, I felt so utterly at ease. I'm an older bride, mid 40's and didn't want a big fuss on the morning of my wedding and my bridesmaids wanted to do their own hair and make so it was just Dawn and I, plus my 11 year old in the background. I felt so relaxed being pampered and my hair and make up looked absolutely stunning and held/lasted all day and night, through confetti throwing, dancing the conga (our first dance), more dancing and later in the evening, standing around a bonfire.
I cannot recommend Dawn enough. She is worth every penny spent and made me feel glorious on the most magical day.
Joanna Wilson
Captains Wood Barn Great Totham Essex
Lauren Spurling High House April 2022
Dawn and her assistant Michelle did the hair and make up for myself (bride), my mum and my bridesmaid (adult sister) for my wedding on 10th April 2022.
I cannot sing Dawn's praises highly enough!! I first approached her as she was one of the recommended suppliers for our venue, and her work on the website was just exactly what I wanted – all very natural, and the brides all looked like the most beautiful versions of themselves which is what I wanted. Dawn has stuck by me through all of COVID and postponing our wedding four times, and has never been anything but kind and encouraging. I had two trials with her as we booked her so far in advance of the wedding, and both times she took great care, made me feel beautiful (which is not an easy feat!!), advised me carefully what would work with my hair type and skin/eye colour and made me feel so at ease.
Then on the day of the wedding, not only did she turn up in the middle of me having a stress because groom was Covid positive, and calmed me down, but she also fell over on the way to the bridal prep area and just carried on with a smile on her face. She talked to me, my mum and my sister all morning and kept me calm, and did an absolutely amazing job on my hair and make up, my partner said I looked amazing and was absolutely blown away. Dawn also pitched in with lacing up my dress, and played a massive role in my feeling like I was beautiful, just for a while. I don't have a lot of self confidence but Dawn did nothing but treat me with utter respect and kindness and that helped me a lot.
Could not recommend Dawn more if I tried! Just amazing!
Lauren Spurling
High House, Althorne
Hannah Brown Hutton Hall 26th May 2022
Hey Dawn
Now the dust is settling from our wedding/honeymoon and thank you VERY much for your amazing help and services for our wedding. It was the most magical day! IT HAPPENED! Hahaha. I couldnt be more grateful and will recommend you til I am blue in the face.
If there is ever anything I can do for you please let me know 🙂
Hannah Brown
Hutton Hall
Whitney Chambers July 9th 2021
She was amazing with my little girl.  She made us both feel very welcome and comfortable.  Our hair looked amazing and I loved my make up….. wow, just amazing.
Whitney Chambers
Ilford Essex
Danni Parren 7th December 2021
Dawn made me feel gorgeous and absolutely at ease on the morning of my wedding.
I went to my hair trial with the 'do what you want' attitude (I was told by my family that I was too laid back
) and Dawn immediately came up with this stunning hair updo.
I had the same attitude on my wedding day but just asked for her to accentuate my eyes
and she gave me flawless beautiful make up and repeated my hair updo.
Dawn was incredibly calm and although a little tight for time, never made me feel rushed or stressed.
Thank you again for making me feel very special
(P.S. my hair do also held for the entire day and evening, which is a first for my fine hair!)
Danni Parren
Newland Hall
Amanda Malin 1st October 2021
Hey Dawn
Just wanted to thank you so much for the beautiful work and the help you gave me on our big day.. you were absolutely amazing and I wouldn't have got through without you.
Thank you again… everyone commented on the hairstyle…
Regards Amanda
Amanda Malin
Layer Marney Tower
Jess Neale Reid Rooms July 15th 2021
Hi Dawn,
Apologies for the delay, I have had this sitting in my drafts and only just realised I didn't press send!
I just wanted to say a massive thank you for your make-up services at our wedding. I was so pleased with the gorgeous makeup you did for me, my bridesmaids, mum and mother-in-law. It was the exact look I wanted, and lasted all day and all night! You were so professional, and it was so lovely to have you there while we were getting ready.
Thank you for everything, I will be recommending you to everyone I know!
Best wishes
Jess
Jess Neale
Reid Rooms
SARAH AND LAURA
I can't thank you enough for your help yesterday, truly appreciative of the time you spent with us, and the extra time you weren't expecting to spend with us!  It was a lovely day made less stressful for you being there! x Karin Meek
Leez Priory     25th July 2021
Karin Meek
Leez Priory
HELEN HALL
Dawn, thank you so much for helping me to feel amazing on my wedding day.
After spending 18 months in my uniform and not being able to get dressed up I felt like me again!  The weather held up and everything went well.  I will send you photos….. thank you again.
Helen Hall
Maldon, Essex
Claire Morgan
I cannot recommend Dawn highly enough. She is calm, efficient and makes you feel like a million dollars. I am not the most confident and struggled with the look I was after. Dawn is extremely adept at reading people. The final look for me, Mum and 2 bridesmaids were superb. Wonderful, talented lady.
Claire Morgan
Grace Defreitas
Dear Dawn
Thank you for being part of our wedding day. You really made my bridesmaids and I feel immaculate on the day and all evening dancing! It was magical. Love Mr & Mrs Defreitas
Grace Defreitas
Amy McGill (Langmead) Houchins
I've had the pleasure of knowing Dawn for quite some time as we work together in the wedding industry and I think she is incredible at what she does.
Dawn knows me well and all that I like style wise, however will also advise me on what compliments me and helps me to think a little broader with my ideas.
So with no doubt in my mind I booked Dawn to create magic with my hair for the day and also make up and hair for my bridal party.Communication was great, the booking process and lead up to the day was wonderful, Dawn created me a great beauty schedule for the morning that included a second stylist was on hand at another venue where my mother
in law was staying and getting ready.
Dawn and Victoria were incredible on the day, calm and concise and effortlessly made my bridal party and I look absolutely gorgeous. During a relaxing hair trial, I explained that I wanted to be the 'real Amy' that not everyone sees and not everyone expects, simple and natural, like I am at home, no make up and my hair in a 'top knot'. Dawn created a simple but elegant 'top knot' and I couldn't be happier. The girls followed suit with low buns and simple make up and they looked absolutely stunning.
The best choice I ever made was booking Dawn and I would urge anyone to do the same. You won't regret it.
Thank you so much Dawn, you are amazing.
Amy McGill (Langmead) Houchins
Sherry Mundy
I cannot praise Dawn highly enough, for the treatment my Mum, my Bridesmaids and I received on my Wedding day. We were all so pleased with our hair and make up. Everything went exactly to plan, making me a very relaxed Bride! Thank you Dawn, for your part in making me feel very special, on my special day.
Sherry Mundy
Charlotte Jackson
Hi Dawn
Just wanted to say a massive thanks for doing my hair and makeup.
On both wedding days you made me look fantastic and I loved it so much.
I know I was quite indecisive and you were so calm and accommodating as I know all the styles I tried in our trial days were very different.
In the end for both wedding days my hair and make up looked even better than I remembered.
The up do was so cute and went so well with my registry office wedding and jumpsuit.
Then you chose the perfect colour hair extensions for my wedding in the woods and the fresh flowers you added looked amazing.
My sisters and mum were thrilled with their hair and Alison said she had never looked so good. This made me so happy that they were feeling good also.
Everyone said I looked amazing and my hair looked so good with the dress.
Thanks for keeping me calm on the day and doing my makeup so well even though I was shaking.
The day was the best day ever! I want to do it all again and I wouldn't change anything. It was all perfect and I felt amazing.
Will definitely be seeing you again for special occasions. You're so good at your job and so friendly that you made the whole experience really enjoyable.
Many thanks
Charlotte
Charlotte Jackson
Bethany Carpenter
Hi Dawn,
Just wanted to say Thankyou so so much for everything you did on the day. My hair and make up looked amazing and lasted right until the last minute! Even until the next day. You made my mum feel so special as she doesn't usually dress up and you really contributed to her enjoying the day even more!
Thanks for all the added bits you helped with aswel, like my dress, you really were amazing and I'll send you some pictures when they come through.
Thanks again
Bethany
Bethany Carpenter
Rebecca Curtis
Thank you for everything you did for me and the girls on Friday, we were beyond happy with what you created. People commented all day on how beautiful the style was and it lasted all day/night. I would recommend you to the world I am so pleased I found you. Thank you for everything and also for doing up my dress. Thank you, thank you, thankyou. I wish you every success with your business.
Rebecca Curtis
High House
Amy Griffiths-Bevan
Dawn completed hair and make up for me, my bridesmaid and Mum. The results were amazing and I could not have been happier. When I went to the trial I explained what I wanted for my hair but was unsure about make up; however you're in safe hands with Dawn and she did what I wanted without me knowing what I wanted. She kept us calm on the morning and battled with my twitchy eyes! I cannot recommend her enough.
Amy Griffiths-Bevan
Vaulty Manor
Natasha Tonge
Wow Dawn! Thank you so much for doing our make up/hair on Friday! We were so happy with everything your work is just incredible I honestly can not thank you enough!!! We all had the best morning getting ready with you so calm and professional, thank you soooo much! Xxx
Natasha Tonge
Janette Conway
Dawn did mine and my 3 bridesmaids hair and make up for my wedding a couple of weeks ago. We all looked amazing and was so happy with the outcomes and it lasted all day and night! I even changed my hairstyle on the day and Dawn was great, took on the challenge and made my hair so much better than I could ever imagine! Such a lovely lady too! Would definitely recommend!
Janette Conway
Apton Hall
Ashleigh Geekie
Dawn helped myself and my bridesmaids look beautiful on my wedding day on 20th May 2018. From the first point of contact right through to the day Dawn was professional, easy to talk to, and so friendly and warm! On the day Dawn arrived exactly when she said she would and got straight to work – brushing off the fussiness of my bridesmaids like it was nothing! I think it's sometimes easy to be really self conscious when you allow someone to make up your face but Dawn leaves no room for feelings of self doubt taking the time to comment on everyone's own individual beauty and made each one of us feel special. Knowing that it would be a challenge to make up 5 girls she brought in extra help which was really great of her!
The way Dawn seems to effortlessly create beautiful hairstyles and make up looks is fun to watch and it's even better to be on the receiving end of her magic make up brushes and hair combs – a true fairy god mother!
If you are looking for a make up artist and hair stylist look no further ????
Ashleigh Geekie
Leez Priory
Natalie Togher
Gosh where do I even begin to explain how wonderful Dawn is! I went for a bridal trial with Dawn and I suffer from severe anxiety but she put me so much at ease and was so understanding. Dawn completely understood what I was asking for with hair and make up!! She has a beautiful beauty room at the end of her garden which is just perfect because of the natural light. On my wedding day Dawn was as lovely as ever and calmed my nerves so much. My make up and hair was just perfect and I truly believe that if I hadn't have had Dawn I wouldn't have felt as beautiful as I did on that day. I don't ever think I look beautiful due to a lack of confidence but dawn gave me that confidence to say yes I do look nice because of the hair and make up but also because she was just so lovely. Thank you so much Dawn. I couldn't have asked for any more! Dawn is such a talented lady and is a joy to be around. The things she can do with hair is unbelievable and the products she uses for make up are amazing as you can wear a ton of make up however you feel like you are wearing nothing. My make up and hair lasted all day aswell which is amazing. Thankyou so much Dawn xxx
Natalie Togher
The White Hart, Gt Yeldham
Dana Rowlands
Dawn did the hair for my wedding last week, and she did an amazing job! The style she created for me was exactly what I had in mind, and fitted perfectly with my dress. It stayed in place all day (which is unheard of for my hair!), and she even made me a custom hair vine, which I can cherish forever, and hopefully pass on one day. Dawn was so friendly and easy to get along with, which made the whole morning feel so much more relaxed. Thank you Dawn!
Dana Rowlands
The Lawn, Rochford
Irene Corrigan
Dawn did my daughter's wedding hair and make up. She also did my make up. Dawn came over to Leez Priory at 9:30 in the morning of the wedding – exactly on time. Dawn was friendly and professional and did an absolutely beautiful job of the three bridesmaids hair. My daughter looked stunning with her hair and make up that enhanced her own natural good looks without looking over made up. I cannot thank dawn enough. She worked a miracle with my make up and I felt great.
Irene Corrigan
Jenna Peyto
Dawn is brilliant – reliable, professional, friendly and talented, I highly recommend her. I had a great trial with Dawn and felt she really listened to what I wanted and gave me advice on what would suit me for both make-up and hair for my wedding. Then even though I had some new ideas by the time the wedding day came, she adapted without hesitation and created a look that was perfect for me. She even took the time to give me the list of products she used when I asked for them afterwards so I can recreate the make-up myself. I couldn't recommend Dawn enough, I'm really glad I was able to work with her.
Jenna Peyto
Laura O'Neill
Dawn, I cannot thank you and Michelle enough! You had various challenges on my special day and you made each and everyone one of us look and feel the best we ever have. Not only are you professionally great at what you do, you were fantastic company to have on the morning of my wedding. Every bride needs you! Thank you, thank you, thank you xxxxx
Laura O'Neill
Celina Day
I just want to thank you personally for all your hard work on the morning of the wedding. I have to be honest I'm not naturally big on make up so having my hair and make-up done was a treat to myself. I was a little apprehensive as to how I would look however the results were stunning.
I can honestly say I had the most relaxed, pampered morning ever and that was all thanks to you. You worked your magic on my young bridesmaids who's hair was a bit of a challenge to say the least. So many amazing compliments were received throughout the day on our hair, make up and my hair vine.
I also want to thank you for helping me with my dress. You went above and beyond the call of duty! My mum, who suffers anxiety and panic attacks, was feeling very stressed about my dress!! Dawn to the rescue!!
It was lovely to meet you and an absolute pleasure to share my day with you, thank you again and hope to see you in the future.
All the best
Celina x
Celina Day
Rachel Levi
Dear Dawn,
I just wanted to say thank you so much for the excellent job you both made of the hair and make-up for my Wedding on 9th July 2016. Your amazing time-keeping, flexibility and attention to detail meant everyone felt so comfortable and looked beautiful.
I have attached some photos that I thought you might like to see.
Rachel Levi
Claire Bedingham
Dawn you really were incredible and I will always be grateful to you for being there on my special day, helping us all look beautiful and feel calm and confident. You have the ideal personality for this job and I cannot recommend you more highly. Love from the New Mrs Kasumba!
Claire Bedingham
Eliandra Nogekoski
Dawn is an amazing and professional hair and makeup artist. She did an absolutely amazing job with my now mother in law, my gorgeous flower girls and my hair and makeup also. I was so pleased with the job that she did, that I know that I could not have picked anyone better! Thanks Dawn, you are really talented and all of your materials are absolutely top notch. If I could rate you over 5 stars I would! Love Eliandra xx
Eliandra Nogekoski
Hannah Robinson
Dear Dawn
Thank you for the beautiful hair and make up you did for me and my bridal party. Everyone said it looked lovely and I felt amazing!Thank you so much. We had the most wonderful day and thank you for the part you played in this. With Love Hannah and Tom xxx
Hannah Robinson
Amy Ashworth
THANK YOU SO Much for being absolutely fantastic in every way on the wedding day. You did an absolutely Beautiful job of all my bridesmaids who were VERY highly complemented throughout the day. But most importantly thank you for making me feel stunning on our special day. I felt completely amazing with my gorgeous hair and flawless makeup. Our photographs are brilliant and I can look back on them and remember how beautiful you made me feel (even with my terrible thin hair at the beginning!). You made the whole experience so much fun and I couldn't have asked for a better, more fab lady to have done us all over!
Thank you sooooo much again! And let me know about the pictures and I'll send some over!
Massive thanks
From Amy and the Bridesmaids! Xxx
Amy Ashworth
Sara Reay
I just wanted to say a belated but huge, huge thank you to Dawn who not only accommodated my late requested for a make up trial and wedding make up booking, but also stepped in literally at the last minute to also do my hair due to a sickness bug my hairdresser contracted the night before the wedding.
Not only was Dawns timing and help amazing, but her professionalism and talent with transforming my Mother and I was outstanding. I have never been so pleased with my make up and I can't comment enough on how you managed to highlight every aspect of our features and still keeping us looking like ourselves. I genuinely cannot thank you enough for your patience, friendliness and talent. Absolutely amazing.
Thank you so much.
Sara Reay
Sarah Moody
Hi Dawn
Sorry for the delay in this email, it was manic right up until we stepped onto the plane Saturday night, I'm finally relaxing in Mauritius now!
I just wanted to send a BIG thank you on behalf of all the girls, my mum and I. You did such a wonderful job & we were so happy with our hair & makeup – it lasted all day & evening & we all felt very beautiful ????
It was lovely to work with you right from my first trial to the big day & thank you for interpreting exactly what I wanted despite me not always being able to quite articulate it! I loved the hair extensions (no one knew I had them in as they looked so natural) & also the birdcage veil you made was just beautiful, it really completed my look and I didn't want to take it off ever, thank you so much! If it wasn't for you making that I would have ended up with the other veil & not felt as amazing as I did on the day so you made a huge difference.
Thanks to Debbie too, you both worked really hard all morning yet kept me calm whilst a bit of chaos ensued around me which is also greatly appreciated!
The hair & makeup you created was just stunning & I'm so happy that I found you at Sam's wedding – I will of course be recommending you to other brides.
Give Grace a big cuddle from me & I hope the new puppy settles in well ????
Sarah (Mrs Patten!)
Here's a couple of photos in case you wanted to see the full the look ????
Sarah Moody
Yolanda Rosenthal
Hi Dawn,
Just a big thank you for the girls hair do's yesterday.
As you can see, Misha looked stunning and had the most fantastic day. She took my breath away every time I looked at her.
The bridesmaids looked beautiful and were so happy with their hair which helped the day along nicely. It was all a bit of a rush at the end- so it was good that all their hair looked amazing and needed no further attention.
Thank you so much for being so good at what you do and so professional. I am truly grateful.
With best wishes
Yolanda x
Yolanda Rosenthal
Laura Head
I would highly recommend Dawn's Wedding Makeup and Hair. Her professionalism, friendlessness, vast amount of professional products she uses, quality of work and her great sense of humour made the whole experience such a pleasure! Thank you again Dawn for my wonderful Bridal Hair and Makeup, along with my two Bridesmaids and Mother of the Bride! The positive comments I got from our guests throughout the day were endless! They committed how flawless my Makeup was and how it looked exactly the same by the end of the day! Thank you so much Dawn!
Laura Head
Hannah Smith
Thank you so much for the stunning make up and hair you did for me and my bridesmaids on ou wedding dy on the 29th March. I received lots of compliments and do not hesitate to recommend you to others. Thank you again. Hannah Smith xxx
Hannah Smith
Diana Frith
"Thank You" for the wonderful make up on April 4th. Emily looked radiant and you did an excellent job on the bridesmaids and myself too. We all enjoyed the day and thank you for your part in it. Many thanks Diana Frith.
Diana Frith
Lorraine Davies
Hello Dawn,
Well…we have finally come down from Cloud Nine after last weeks wedding and wanted to say a massive 'thank you' to you for the incredible hair and make up you created for both Georgie and myself last Saturday.
It was such a pleasure to have you around us on the day, we had fun, laughs, you helped to keep Georgie calm whilst I was running around checking on stuff and I thank you for that.
You're exceptional talents helped to transform my little 'refugee'.
Lorraine Davies
Jenny Cooper
Hi Dawn, Just wanted to say a massive thank you for doing the hair and make up for me, my mum, my aunt, my sister in law, my bridesmaid and flower girl. You did such a fab job everyone looked stunning and we were so happy with it all, you made the day perfect for us all (Wedding 05.09.2014) xxxx
Jenny Cooper
Kent
Nikki Holford
Dear Dawn, Wedding was wonderful thank you! We are still in a daze over it all. I got some lovely comments, at least half a dozen people said I looked like a movie star and two people thought I looked like Elizabeth Taylor including Jonah who was blown away by how lovely I looked, which is all down to you, so thank you again. When we get the photos I will be sure to send you a few,,,Take care love Nikki
Nikki Holford
The Lawn, Rochford
Sharon
Dear Dawn Just a little note to say a very big "THANK YOU" for making me feel wonderful at my son's wedding. I think you are amazing and would recommend you to anyone wanting a transformation (as in my case, lol). All the best Sharon x
Sharon
Leez Priory
Jane Gallagher
Hi Dawn, Just wanted to say a big thank you for doing my hair and make up last week. We had an absolutely perfect day, and I got lots of lovely compliments about my hair. I felt like a million dollars all day, thanks to you! Jane x
Jane Gallagher
Maiden's Barn
Stacy Jackson
Thank you so much for all the hard work you put in we all looked amazing! All the extra help you gave from stopping tears to lacing the dress up was so appreciated!!
Stacy Jackson
Mulberry House, Ongar
Stacy Monk
Hi Dawn Sorry for the late email, we've only just got back from honeymoon. I just wanted to say on my behalf and for the bridesmaids and mums a huge thank you for our gorgeous hair styles! I know it was a bit manic in the morning with finding us but you pulled it off in the short time scale you had and we all loved our hair! An extra special thank you for helping with my dress too! Thanks again and I will definitely be recommended you to anyone looking to look gorgeous on their special occasions!
Stacy Monk
Mulberry House, Ongar
Alison Brookes
A massive thank you Dawn…you were amazing yesterday. Everyone commented on how beautiful my Maid of a Honour and my hair was. I can't thank you enough. I will be recommending you to anyone getting married! Thank you too for sorting my lace up dress out lol. I felt wonderful all day – thank you xx
Alison Brookes
Channels Lodge
Claire Newton
Hi Dawn, Just wanted to say a huge thank you for all your help in making our wedding day so very special. My make up was just perfect as were the bridesmaids and my mum. Can't thank you enough. Here's a few pics as promised.
Claire Newton
Chelmsford
Sam Cooke
To Dawn, Thank yo so much for the magic you worked on me at our wedding at The Stoke by Nayland. I look at the photo's and cant believe its me, everyone told me how stunning I looked and I felt stunning thanks to you! You were also fab when I had my wobble and the girls' all looked gorgeous. ! Thank you so much (23.5.14)
Sam Cooke
Stoke by Nayland Hotel
Jo Brinklow
Hi Dawn I would just like to say a massive thank you for being a part In making our wedding day so beautiful. From trials to the morning of our wedding you delivered kind, friendly and professional service that was noticed by all. Mine and the girls hair was stunning. I will send you over some pictures. Some of out guests are planning weddings for next year and asked for your number, so if that's ok with you I have past your number on. Once again a very big thank you.
Jo Brinklow
Crown Plaza 5 Lakes
Natalie
Dawn, what can I say. You're amazing! I couldn't have been more happy with the results of my hair and makeup along with my bridesmaids hair and makeup on my wedding day. It was all simply stunning! Dawn is so easy to get on with whilst being highly professional. We all had a great laugh on the morning of my wedding. Dawn makes you feel completely at ease. I would highly recommend her. She did my lash extensions too and they looked fabulous. Thank you Dawn for making the morning run so smoothly. You made us all look fantastic! xx
Natalie
Hertfordshire
Dawn Skippins
Dawn, I just wanted to say thank you so much! I have never felt more beautiful and more special than I did on my wedding day! My bridesmaids and my mum looked wonderful and you made the whole morning and getting ready process run smoothly. Thanks again, you're fantastic! Love Mrs Skippins (the other Dawn!)
Dawn Skippins
Great Hallingbury Manor
Eleanor Farrah
Hi Dawn, wanted to thank you! You made my day that extra special. You went above and beyond. So very grateful and everyone remarked on how beautiful my hair and make up was x elle x
Eleanor Farrah
Great Baddow
Emma Kemp
Dear Dawn, Thank you so much for the amazing work you did with everyone's hair on our wedding day. You made each and every one of us feel great. I wasn't an easy customer with my problem hair and yet you turned it around and made it look stunning. I felt great as did my mum, and maids. You had the patience of a saint working single handed on each of us to a very tight deadline and yet from the amazing results you'd never have believed it. Each style was unique and looked beautiful; we couldn't have hoped for better! Add that to the fact you had me laughing so much, which really put me at ease. We are very grateful for your kindness, generosity and all the help you so skilfully provided to make me and my girls feel so wonderful on our special day. Thank you Warm regards Mr and Mrs Kemp xx
Emma Kemp
Parklands, Quendon
Alexandra Dancey
Hi Dawn, I just wanted to say a MASSIVE THANK YOU for my Wedding make up! I found finding the right make up artist quite a task, but my trial put all those worries to rest; you definitely know your stuff! I was over the moon with the look you created; I felt like a million dollars and that I looked my absolute best on my wedding day! You were very professional and I felt like I was in safe hands. Everyone made lots of lovely comments and my make up looks fab in my wedding pics! I was pleasantly surprised that after a 15 hour day it still looked amazing and I didn't want to take it off! I would definitely recommend you to any bride to be. I attach some pics for you and apologise for not contacting you sooner, the days run away with you! I hope the quality is ok as I had to figure out how to compress them as the files were too big to email. Thank you!!! Alexandra 6.9.13 – De Rougemont Manor xxx
Alexandra Dancey
De Rougemont Manor
Mary Redbourne
Dear Dawn, Thank you for helping make my day, our day, so special. Everyone loved my hair, it was a real "wow". I was thrilled. Love and Best wishes Mary.
Mary Redbourne
Newland Hall, Essex
Jenny Patterson
Hi Dawn, Hope you are well. Sorry for the delay in sending you some photos and to say a massive thank you for all your hard work on the wedding. The girls were all chuffed to bits with your work and mum absolutely loved how she felt all day! I felt a million dollars! The makeup stayed perfect all day and I got lots of compliments! I love how I look in all my wedding photos! You kept everyone calm and relaxed on the morning. I will never forget how you saved the day and laced my dress up beautifully! Thank you again, so sorry this is so late. Many Thanks, Jenny x
Jenny Patterson
The Ivy Hill Hotel
Vicci Parlan (Wright)
Thank you so much for doing the makeup at my wedding on 3rd October. Everyone was amazed at the transformation! Even after 12 hours my make up was still perfect! You helped me feel like a princess for the day. Thank you so much. Vicky Parlan (was Wright).
Vicci Parlan (Wright)
Leez Priory
Nicole Smith
Dear Dawn, I just wanted to say a massive thank you for making me look totally amazing on my wedding day yesterday. I really can't thank you enough because I genuinely feel I have never looked so good which is just what I wanted! My make-up didn't budge all day – even with my odd watery eye! I didn't want to take it off. I felt fabulous and I got so many lovely comments from people. I owe it all to you! How you look on your wedding day is obviously a huge thing and is one of the reasons why I initially was unsure about having professional make-up. I didn't want it to feel heavy and although I wanted to look my best I still wanted to look like me. It's a big trust issue but I felt completely safe in your hands. I found the couple of hours I had getting ready with you really relaxing. I'm so glad I did it. I've attached some photos which I hope are useful. I wanted to try and show the back, the side and the front (you'll have to excuse my friends!). My best friend has asked me for your number. She is getting married next year but lives in Surrey. Would you travel that far? Thanks again – you were an absolute diamond.
Nicole Smith
The Reid Rooms
Jamie Lammin
Hi Dawn, Just want to say a BIG thank you for making my day so special… Everyone commented on my Hair & makeup and said how beautiful i looked even into the night time…. My mums hair and make was perfect she loved it… Also my two flower girls and my two bridesmaids hair and makeup was stunning… Thankyou so so much truly amazing!
Jamie Lammin
Newland Hall, Essex